Summary
P.R. Consultant/Media Relations Specialist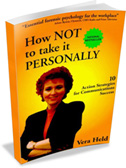 Click here for more information
Coach
VNH coaching clients are cross-industry, cross-skill, cross-level and cross-culture, and her projects have ranged from coach to Michael Nairne, former president, The Equion Group (now Assante Capital Management Limited) to working with the international sales team at Bombardier Aerospace.
Vera was an objective third party witness for an Ontario Human Rights Commission (OHRC) case involving a disgruntled employee and was then asked to appear in Provincial Small Claims Court this time representing her client regarding that same employee.
An effectiveand dedicated coach, Vera Held helpspresidents, CEOs, VPs, managers and staff at all levels communicate effectively even in the most difficult situations with the most difficult people.
Multi-Cultural Expert
As a trained ESL and EFL teacher and as world traveler, Vera's had great exposure to Canada's mosaic, the needs of Japanese workers whom she taught for a year in 1983/84, as well as to the multi-cultural mosaic that is Canada and corporate Canada.
Media Expert
Vera has been extensively featured, interviewed and has acted as a paid guest expert on television and radio. Examples include: Canada AM, The Camilla Scott Show, Dini Petty, Jane Hawtin Live, Eye on Toronto, CBC Calgary EyeOpener, CFRA Radio Ottawa, etc. She's also been interviewed and quoted in print for The Montreal Gazette, The Globe and Mail and others.
Facilitator/Speaker
Vera's hands on sessions have included: enhancing business writing skills with Glaxo's, quality improvement team, working with engineers to better communicate at the Ministry of Natural Resources, working with over 300 CIBC technical staff on how to better deal with challenging personalities. She's also done a dinner keynote to 100 for the VON Annual General Meeting, a full morning to over 100 at the 18th annual professional office staff conference, McMaster University, and a morning keynote to over 500 at the October 2001 Toronto Secondary School Administrators' Association Conference.
In both 2005 and 2006, Vera was asked to guest lecture and to chronicle her writing career to students in Centennial College's Book and Magazine Publishing Program. In March 2007, she was the luncheon speaker to 200 for Toys R Us, at their bi-annual internal conference in Toronto. Vera spoke to over 600 conference delegates (standing room only) at the Industrial Accident Prevention Association's (IAPA), annual international conference, April 2007. (see photo). This was followed by a bi-lingual booksigning in English and French at their onsite conference bookstore.
Writer/Photographer
Vera writes for national publications and websites and such as Airmiles, the National Post, Canadian Living, Investment Executive and Flare, and she has written several international features for Cathay Pacific's "Discovery" magazine. Her travel features and photos have also appeared in The National Post. Vera's photos of the Canadian Rocky Mountains and other scenery and wildlife can be viewed at www.yaronphotography.com
From 2005 through 2007, Vera wrote cover features, specialty features, columns and a personal account piece for HR Professional Magazine at www.hrpao.org. Highlights include: September 2005 cover feature on Husky Injection Molding Systems Ltd., June 2006 column on diversity at Teranet Inc., January 2007 cover feature on CEOs (including a specialty interview with Monika Merz, the president of Toys R Us, Canada), and the June 2007 cover feature on thriving in a one-person HR department featuring Warren Eberlin of Alcatel-Lucent Canada.
Previously, on Saturdays, Vera's workplace features appeared in the Toronto Star's business/careers section as well as at www.workopolis.com. Vera's cyber advice biz column can be found at at www.mochasofa.com. She also wrote the "Office Politics" column for The Toronto Star, and the "WorkSage" column for Workplace News and did a regular TV spot on the workplace on Citypulse 24, every Monday at 9:30 am for two years.
P.R. Consultant/Media Relations Specialist
In 1980, Vera joined Vickers & Benson Advertising; she wrote, developed and executed promotional campaigns. At 23, she ran the national news conference for her client The Canadian Cancer Society when Terry Fox died. The most critical aspect of this project was calling CCS executives from across the country to inform them that Terry had died. For some, it was midnight and they were fast asleep. Others, were shocked. Others wanted to talk; others still broke down and cried. Vera also worked on accounts such as Labatts, Waddington Auction House, Hiram Walker, Amway, Johnston & Daniel, etc. Later, Vera did extensive public relations for the children's singing team of April and Susan.
In 2006, Vera handled local, provincial, national and international media relations for the 26th annual Human Resource Professionals Association of Ontario (HRPAO) conference (2nd largest HR conference in the world) including the running of the onsite "Media Room" at conference (MTCC) with 9 volunteers/20 shifts. Highlights included: a first, international, Radio Canada interview (RCI has been broadcasting to the world since 1945) on "Business Sense", broadcast on Internet, radio, shortwave and satellite radio to Asia, Europe, India, Africa, Canada, States, Caribbean, a first, French radio broadcast across Ontario, a first, print piece in one of Canada's premier, Chinese daily newspapers that, too, broadcasts internationally on the Internet to China, and a first, print piece in a training magazine published in India.
Pro Bono, Vera handled media for the First Annual Toronto Songwriters' Festival (2006) to include JoJo Chintoh for ribbon cutting and full coverage by CityTv at event/post event. In 2007, for the second annual festival, she continues to serve on the media committee as well as the sponsorship committee.
Advocate
Vera's advocacy skills are top-notch. First, she was a self-advocate. Post major surgery, she was told to prematurely leave hospital on a walker; she demanded to stay until she was competent on crutches. She single-handedly called a media conference at the apartment building where she resides and where she represented over 500 tenants; her goal was to quickly, in the dead of winter, restore heat and hot water to the building plus have other pressing, tenant issues addressed. She helped many a tenant get appropriate compensation packages from management, which included the correct legal wording on their sign-off document. As well, when none were allowed, she challenged apartment building owners to allow her to affix a 3 x 3 inch pet rescue sticker to the outside of her apartment door. Vera also took on one of Canada's largest real estate firms, and all her outlay was returned to her, when in good faith she'd purchased a townhouse and subsequently dug deeper and found out that $3M worth of noisy and costly construction was to take place over the next 3 years.
Vera's an educator and a traveller, and her non-profit work then extends; she helps children in developing countries rise above poverty through education. She works with Toronto-based charity Jai Dee www.jaideechildrensfund.org which means good heart in Laotian. Funds raised via the Toronto Songwriters' Festival www.torontosongwritersfestival.com and other projects currently assist school children in Laos and India. Simultaneously, home grown musical talent is supported via this annual festival. A long time thespian and arts advocate, Vera also volunteers with Theatre Museum Canada www.theatremuseumcanada.ca, a national organization dedicated to preserving Canada's theatrical heritage.