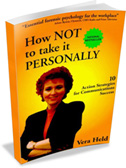 Click here for more information
Biography
Author Vera N. Held, M.Ed. is a coach, facilitator, speaker, writer and PR consultant. She runs VNH Communications in Toronto, and works in Canada, the United States, Europe and Asia.
A language and theatre buff, Vera completed an English degree from York University and a public relations certificate from Humber College and then in 1980, joined Vickers & Benson Advertising.
At V&B, she became a media relations expert and wrote, developed and executed promotional campaigns. She worked with clients such as Amway Cosmetics, Johnston & Daniel Real Estate, Waddington's Auction House, Labatt's and others. At 23, she was responsible for notifying all the Canadian Cancer Society executive directors that Terry Fox had died; the next day, she ran the national news conference in Toronto.
Passionate about linguistics and culture, in 1982, Vera went to the University of Toronto to complete an English as a second language teaching certificate. In 1983, she headed for Tokyo to design business English programs for the Chiyoda Chemical Co. and the Nippon Electric Co. Once home, Vera did a Masters Degree in Education in curriculum design at the Ontario Institute for Studies in Education (OISE), pursued her teaching career, began an extensive self-development program plus started VNH Communications.
Listed in the Canadian Who's Who plus the Who's Who of Canadian Business, and the Who's Who of Canadian Women, Vera has been a mentor at York University's Schulich School of Business, and with the University of Toronto's Prime Mentors of Canada. Some of Vera's interests include antiques-with-imagination, Canadian theatre, resistance training, "Black Beauty la Frisk" (her ferocious feline), squash, and just "snooping", in general.
Vera won the Grade 13 Theatre Arts Award from Newtonbrook Secondary School. She also received an Ontario scholarship and first year scholarships to both York University and the University of Toronto.
In 1998, the Canadian Booksellers Association voted Vera's business bestseller "How Not to Take It Personally" one of the top 15 business books in Canada. Vera was asked to present with her book at the national book show and conference two years running: 1996 in Vancouver and 1997 in Toronto.
In 2002, Vera's name was put forth for the 2002 Ontario Premier's Awards; she was inducted to the "Humber College Alumni Wall of Distinction" in 2002 and is on the President's Wall.