Coach
P.R. Consultant/Media Relations Specialist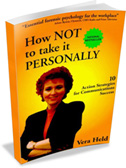 Click here for more information
Working with your Sounding Board
Do you need a sounding board who has both people and business savvy? Would you like to discuss pertinent issues and goals in a challenging yet non-judgmental format? Could you benefit by having someone ask you questions that you need to ask yourself? Could you use help to understand your staff and their mind sets? If you answered, "yes" to any of these questions, then, you need to work with Vera Held, Canada's Communications Coach.
Vera will challenge your assumptions, biases, stereotypes, labels, self-expectations, your expectations of others and your demand quotient, and give you a tool kit for bettering your everyday performance - with everyone you need to interact with.
Strategy
My role as your executive sounding board can take many forms -- coach, confidante, communicator, counselor, psychologist, philosopher, corporate conscience, or friend.
Method and Focus
My communication process is eclectic and combines bits 'n' pieces of many techniques you've read about. We focus on what's important to you, and pursue it. Productively. We have fun. We laugh. We listen. We talk. We share. We work hard. We grow. Each session is different and defines itself based on what you want and need. Often, I will wrap-up a session with some strategic questions to help focus the next session. Or drop you an email note to follow-up on the issues you've defined as critical.
Location: your office, by phone, by email, over breakfast or lunch to meet your comfort and convenience needs.
"Your extremely well thought out program and the enthusiasm with which you approached the task of helping these people on a one-on-one basis, in what could have been a very sensitive area, contributed to making the exercise a great success. Furthermore, the effect this had on the individuals' self confidence and self esteem was remarkable."
- John Howarth, - VP-The Americas, Bombardier Regional Aircraft
"Recently Vera Held assisted us as an unbiased 3rd party in a particularly difficult conflict between two members of our staff. She handled it with professionalism, discretion and produced an easy to read, straightforward, action-oriented report."
- Bob Dameron, President & CEO, Ontario Teachers Group Inc.
"The 45-hour , 5-phase communications program you developed and implemented with one of my sales representatives has definitely met both our objectives in enhancing his communication skills, and in unleasing his sales potential. Allow me to add that the professional way you handled the sensitive issue of his self-esteem as part of the overall program was appreciated."
- Terry Neprily, former District Sales Manager, Pharmacia & UpJohn
"We have utilized Vera's coaching expertise to provide one-on-one communication coaching to key management level staff. She has provided them with communication tools to enable them to impartially assess various communication situations and challenges. They are then able to respond in a manner which achieves very favourable results. Almost immediate improvements in communication have been noticed as the individuals apply the lessons learned. Benefits realized would include better communications and improved relationships with staff and other Departments within the organization."
- Stephen Gallant, Manager ,Administration Services Group, TD Canada Trust, Visa.