Facilitator/Speaker
P.R. Consultant/Media Relations Specialist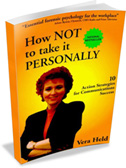 Click here for more information
Facilitator/Speaker
Vera's hands on sessions have included: enhancing business writing skills with Glaxo's, quality improvement team, working with engineers to better communicate at the Ministry of Natural Resources, working with over 300 CIBC technical staff on how to better deal with challenging personalities.
She's also done a dinner keynote to 100 for the VON Annual General Meeting, a full morning to over 100 at the 18th annual professional office staff conference, McMaster University, and a morning keynote to over 500 at the October 2001 Toronto Secondary School Administrators' Association Conference.
In both 2005 and 2006, Vera was asked to guest lecture and to chronicle her writing career to students in Centennial College's Book and Magazine Publishing Program. In March 2007, she was the luncheon speaker to 200 for Toys R Us, at their bi-annual internal conference in Toronto. Vera spoke to over 600 conference delegates (standing room only) at the Industrial Accident Prevention Association's (IAPA), annual international conference, April 2007. (see photo). This was followed by a bi-lingual booksigning in English and French at their onsite conference bookstore.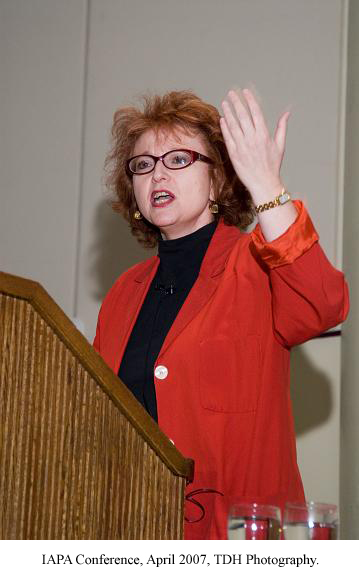 Keynotes to full-day workshops:

1. The Right to Dream.
2. Do you Know Your Triggers?
3. Understand the Listening Myths and the 6 Listening Masks.
4. People Come in 6 Speaking Styles.
5. Do You Work with the 6 Challenging Personalities?
6. Use Technology Wisely .... to Really Communicate
7. Communicate with Courage
8. Are You Overwhelmed?
9. Priority Management, Self-Preservation and You
Everyone has the right to dream, to hope, to believe, to have faith, and to make their dreams come true. All human beings are "the caretakers of dreams", and are continually responsible for making things happen in their own lives, in the lives of others, and at work. Non si vive di solo pane. But often in difficult and stressful times, we put our dreams on hold, caught in the everyday minutiae. So, just how do we keep on dreaming, and stay true to that faith, that hope --- even in tough times? How do we learn to stay inspired and to NOT take things personally? And to stay focused on the original passion that made us the people/professionals that we have become? People who both want and strive to make a difference? Or in the words of Helen Keller people who "keep their faces to the sunshine, so they cannot see the shadow." In this truly inspiring session, join educator and writer, Vera N. Held, M.Ed. author of the bilingual business best-seller How Not to Take it Personally to share a few tips with us on DREAMING. Remember! Give up on your dreams; it's a short walk to disappointment.
This workshop focuses on building awareness of your own sensitive spots, and others' vulnerable spots as well. The more you know about yourself, your strengths and growth opportunities, your perceptions and attitudes and those of others, the better you deal with all areas of life and work.. We will look at:
finding out the root of what is REALLY bugging you, and taking action to fix it before a pin prick turns into a bomb
cutting to the heart of the issue in working out a sensitive issue with a boss or co-worker
building the 3 prongs of people solidarity through: language, like-mindedness and expression
knowing how to make yourself and others feel valued and appreciated
not getting easily upset, for example, when your business calls aren't promptly returned
People take TOO many things personally, and we need to better learn how to let things roll off our backs. Come take The Self-Awareness Quiz, The Communication Skills Awareness Quiz and try your hand at The Hurt Readiness Index. Find out a little more about yourself, how you relate to others, how you can improve on you to build lasting relationships at work.

Is listening an innate skill or does it need to be learned? And how do you become a good listener? In this interactive session, communications coach Vera Held will help you to zap a bunch of listening myths in The Listening Quiz. You will also learn about the six kinds of listening masks and when to take yours off to move a situation forward. We will also practise The Listening Mask Spot Check to help you tune into yourself and others better. Here are the six masks: The Daydreamer, The Attention Faker, The Distractor, The Self-Protector, The Selective, The Mindreader. Come meet the Distractor or the Mindreader - the most potentially dangerous mask of all. Join us in this fun and educational session. No daydreaming allowed.

Features

Who's Who and what's your Best Match. What's Your "Dream" business associate, colleague or boss? In this session, Vera Held will help you define your speaking style and how to "make a match" through complementary distribution of the differences. Learn to make the differences work for you and your business associates. We're not all cookie cutters -- but we can all do business together with a little flexibility and some adaptability on both sides. Are you: The Lion? The Peacock? The Elephant? The Bull? The Chimpanzee? The Chameleon? Do The Speaking Style Spot Check. Learn about the animal in you and how to make it work with all the other animals in the business jungle.

5. Do You Work with the 6 Challenging Personalities?

People can be a challenge. In this fun and educational session, Vera will introduce you to the 6 challenging personalities, the particular challenges they represent, and help you build some sure-fire techniques on how to get along with them and do business with them - in spite of the fact that they may drive you crazy. Are you a magnet for challenging personalities? Come do The Challenging Personality Magnet Quiz and find out who you attract and why. Could you have a challenging personality too? Here are the six types: The Manipulators, The Experts, The Reactors, The Complainers, The Pleasers, The Pricklies. Do you know any blamers, grudge holders or whiners? Perhaps a do-it-all or someone who's totally inflexible? Remember, life is like a box of chocolates -- you never know what you're going to get. So, come to this session - and become more prepared to meet these people challenges.

6. Use Technology Wisely ... to Really Communicate

Are you plagued by multiple messages on voice-mail and e-mail? If you are, then your boss and business associates are probably, too. Join Vera is this help-yourself-session on when to fax, when to arrange a face-to-face, when to e-mail, when to voice-mail -- and when to give it a rest. Technology enhances communication provided we bring solid THINKING skills to the table. Come learn about:
Maslow and the scale of human needs and priorities
the 3 learning styles PLUS aptitude, attitude, judgement and common sense
same message, multiple mediums and multiple audiences
choosing your electronic media: all the time, in time, to save time, and the do's and the don'ts with each medium
And one of the MOST frustrating phenomenon of all --- But I want to talk to a Real Person! We'll look at simple and effective techniques for CATCHING your colleague. Join us for this hands-on session to keep communication human and simultaneously increase your on-the-job productivity.
Anne Frank maintained her belief in humanity and continuity despite the ravages of the Holocaust.
Stephen Hawking continues at a rapacious pace to share his brilliant mind with the world.
Christopher Reeves and his wife give back and blossom everyday.
What do they all have in common?
COURAGE. So, what role does courage have in your life? How does it help you get through the abundant rough patches? To deal with a ruthless boss, a company layoff, a major health crisis or a sudden death? Why does one person tap into his sap — and another run? Why does one person let fear overtake him while another channels that fear into productivity? In this workshop, educator and writer, Vera N. Held, M. Ed. will work with you on the necessary steps to communicate with courage --- no matter what the circumstance.
Adding people value to the bottom-line is a major responsibility which can cause you ongoing stress. Do you find yourself at times overwhelmed? Unable to answer the myriad of daily emails and voicemails? Unprepared to juggle all those balls? If so, this dynamic workshop is a must for you, and it will help you to better: * laugh at the little stuff * listen to your triggers, * learn how to give a quick and honest "NO", * limit stress, * leverage your time, * label priorities, * learn to juggle all those balls and much more!
9. Priority Management, Self-Preservation and You
In this fun and educational session, coach Vera Held, author of biz best-seller "How Not To Take It Personally", will give you some practical tips to better self-understand, stop procrastinating, up your productivity at work, and to not take things personally on the job. Get things done — but don't get hurt, and walk out at the end of the day feeling great, with energy to spare for you.
"Thanks for your workshop. The entire day was very productive and we all enjoyed it very much. This will generate long-term benefits to the Management Team and its staff. I am sure that the team, and VISA as a whole, will reap long-term benefits when we implement what we learned."
- Stephen Gallant, Manager, Administration Services Group, TD Canada Trust, Visa
"Vera's talk on "How Not to Take Things Personally" helped boost participant self-esteem. The workshop was loaded with practical advice, fun comic strips and opportunities for staff to participate. Vera is a dynamic, enthusiastic and engaging speaker."
- Maria Janeiro, Secretary to the Vice President, Patient Services, Trillium Health Centre
"I was impressed by the intelligence , energy and thoroughness you brought to the task. Your careful attention to needs assessment and design resulted in a program tailored to the work requirements of the group."
- Susan Dennison, former Organizational Development Consultant, Glaxo Canada
"Thank you for the excellent program you designed and implemented for proposal writing. I am pleased with the increased frequency and quality of clear correspondence... The skills learned by the participants have increased their confidence level of writing."
- Eric Sinclair, former VP Sales, Reuters Canada