Multi-Cultural Expert
P.R. Consultant/Media Relations Specialist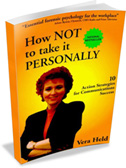 Click here for more information
By the time she was 35, Vera had traveled half-way around the world twice. In addition to living and working in Tokyo for a year, Vera has done things like: met with local artists in Cuba, gotten to know the Dutch locals in Greenland, has stood with people from across the world at the Aswan damn in Luxor, Egypt and at Iguazu Falls in Argentina. She's also wrapped artwork with local Inuit salesclerks in Pond Inlet, Baffin Island, Canada.
2005 to 1990 ----ESL/diversity/cross-cultural clients through VNH Communications --- i.e. manager from Greece, the former Yugoslavia, Sri Lanka, Hong Kong, multiple projects with cross-cultural management team at TD Visa, Bombardier, hospital personnel, manufacturing line workers, etc.
1990 to 1986 ----Worked with North York Board's Continuing Education Division and the Ministry of Citizenship and Culture on an English in the workplace study (published report and brochure), private Japanese ESL students. Continued in ESL full time until 1990 (i.e. designed evening ESL Certificate Program at Ryerson Polytechnical University, plus corporate clients thru VNH Communications, i.e. Campbell's Soup, Magna, Honda, Matsushita, etc.
1984 to 1985 ----Summer sessional at Humber College, specialty project at Portuguese populated Bittner's Packers, onsite workplace program plus ESL night school and Saturdays at Humber, ESL at York University via the CIDA program, Toronto Board night school, George Brown College, night school, taught variety of courses for several years (i.e. writing, pronunciation, oral communication) at Ryerson.
1983 to 1984 ----EFL Tokyo, Japan at adult schools, full-time college students, and in corporate Tokyo i.e. Chiyoda Chemical Company, Hitachi, Nippon Electric Company, etc. Focus for work and job marketability, for further study, for travel and to further cross-cultural communication.
1982 to 1983 ----ESL at U of T's International Student Centre, and children's ESL summer program. Summer at Ryerson teaching several ESL courses.
Features